Check proxy reputation and quality for free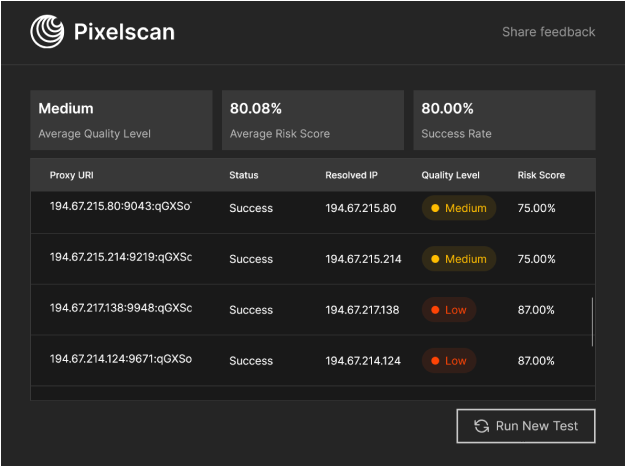 Features:
Check proxy status
Detect proxy reputation and quality
Calculate Fraud Score
Check up to 50 proxies at once
Supported proxy types
HTTP proxies
Datacenter proxies
Residential proxies
Rotating proxies
" HTTPS and SOCKS proxies aren't supported at the moment "
Installation:
01
Download and Install Firefox
Download Firefox
02
Install Proxy Checker extension
Install Proxy Checker
Testimonials
Join our community
Fantastic Firefox extension to check proxy quality! I've been looking for this for a while and couldn't find anything publicly available.
John C
An eye-opener. Now I start understanding why I was having issues with proxies from one certain provider.
Lila K
I am glad Pixelscan team released this. Good job!
Lucas D
FAQ:
What is Resolved IP?
This is the final exit proxy IP address you get by using a certain proxy. When connecting through a proxy chain (a solution often found in residential rotating proxies), the proxy you connect to and the proxy that actually connect you to a website do not share the same IP address. Resolved IP is the address seen by a website you are connecting to.
How is proxy Quality Level calculated?
We use our own technology to calculate Quality Level. Quality level indicates how likely commercial assessment system utilized by many websites to see your proxy as one used for an exit-node for bot traffic. Billions of users use proxies in their daily life and work. Websites generally welcome users behind proxies but try to protect themselves by filtering out users behind certain proxies. We help you identify which proxies are likely to be filtered out.
How is proxy Fraud Score calculated?
Proxy Risk Score depends on the presence of a certain IP address in blacklists, databases of proxies used for malicious purposes, or used by otherwise unwanted visitors. The higher the risk score, the more likely a website to block such a visitor or present with human test challenge commonly known as CAPTCHA. In extreme cases, accounts of users behind high Risk Score proxies may be banned.
Is this a honeypot to collect information about
There is no need to collect information about proxies. Proxies can be easily identified through technical means. There are also billions of users interacting with websites through a proxy server daily. Since we are able to assess Risk Score of proxies, we already have more data than you present us while running our test. We could get more data only by looking into what you are doing over a specific proxies which we cannot do. Also, we run on a strict "No honeypots policy" which is deeply ingrained in our culture. See more details about this policy in our Manifest.